Big Timber Running Club
by Run Hub NW
Big Timber Running Club is Eugene's largest running club, providing a fun and supportive team structure for community members of all levels to train and race together. The success of Big Timber is based on the collective success of our runners, across all paces. Whether your goal is to finish your first 5K or to attempt an Olympic Trials qualifying time, there is a place for you in Big Timber.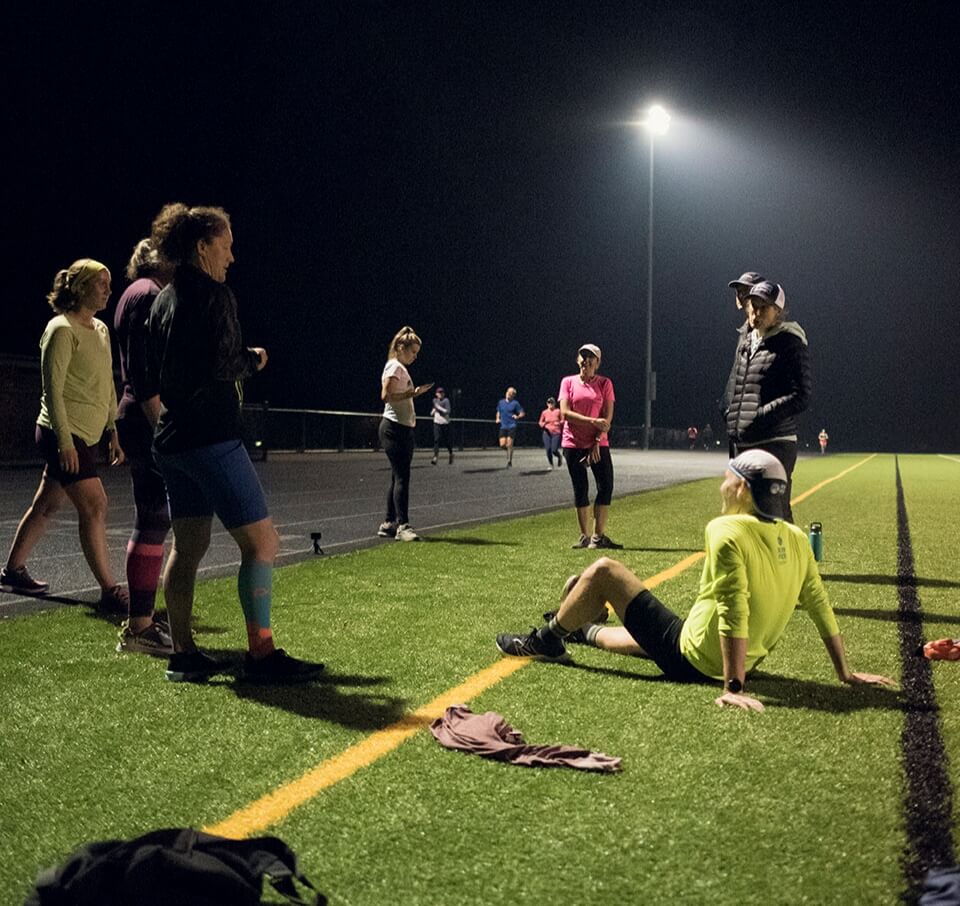 Big Timber Perks
Training plan developed by veteran head coach, Heike McNeil, for each season
Team/coach supported workouts and runs
Training in a team environment with people that have common goals
Big Timber gear: singlet, hat, decal
15% discount at Run Hub (regularly-priced merchandise, some exclusions apply)
Members-only special events (quarterly)
Members-only access to team gear and merchandise
Private Facebook page for club communication and banter
Discounts and preferential pricing on some of the area's best races
Club scholarship application / fees on a sliding scale
USATF, RRCA sanctioned club (pending)
At least 10% of the club registration fee goes to Run Hub Gear Grants, which support local middle and high school runners (distribution happens in March and September of each year)
What are we training for?
In addition to year-round Tuesday night workouts, Big Timber has a fall, spring, and summer schedule of races. You'll join with other Eugene runners to train for those races and toe the start line together.
While each season will have a different primary distance and terrain focus, Tuesday trainings will always offer you a chance to mix things up a bit.
Fall season
Duration: ~12 weeks, September to mid-December
Focus: 10K – Half marathon distances
Terrain: Road and trail racing
Peak Races: Run to Stay Warm 10K/Half Marathon and Frozen Trails 15K/25K
Spring season
Duration: ~16 weeks, January to April
Focus: Half to full marathon
Terrain: Road racing
Key Races: Eugene Half Marathon/Marathon
Summer season
Duration: ~12 weeks Mid-May to mid-August
Focus: Various distances
Terrain: Trail racing
Peak Races: Emerald Valley Trail Series, Butte to Butte, Oakridge Triple Summit Challenge, Mt Hood Trail Games, Haulin' Aspen
Meet the Coaches
Heike McNeil
Head Coach
The team's head coach is Dr. Heike McNeil, Ph.D., a Professor of Chemistry at Bushnell University (formerly Northwest Christian University). An accomplished runner and athlete herself, Heike coached the NCU cross country and track teams from 2005-2018. During her time coaching at NCU, Heike's teams were consistently ranked in the top 25 nationally, including a national championship for her women's cross country team in 2015. Heike ran collegiately at Linfield College, did triathlons post collegiately and currently competes in trail and ultra events as well as racing her mountain bike. Heike loves to help athletes at all levels chase their dreams and see them reach their full potential. She is extremely excited to get to know the Run Hub athletes and can't wait to work on training plans with them!
Dustin Pearce
Club Administrator / Assistant Coach
Store owner Dustin Pearce has been coaching for more than 20 years. Most of those years were spent coaching high school cross country and track athletes while working as a high school science teacher. For the last few years Dustin has been a coach for the spring training teams through Run Hub. As an athlete, Dustin ran competitively in high school and then for Missouri State University where he earned All Conference honors. Dustin is on the comeback trail after a couple of surgeries in 2018, but hoping to get healthy again and make an attempt to break 1:20 as a masters runner for a half marathon in the next year or two. As a coach, there is nothing Dustin loves more than to see his athletes grow and accomplish goals that they might not have thought possible.
Big Timber Membership Options
Big Timber Membership
$120/year
A Big Timber membership allows you all the benefits of club membership and includes a team approach to coaching. The team workouts and training plan will be geared toward the current season's distance, focus and terrain.