Run Hub Owner and General Manager Dustin Pearce ran his first marathon this past fall. And now you, the lucky readers and customers get to hear all about it. Find out how Dustin's training went, the race play-by-play and what he'll do differently next time.
First off, tell us what marathon you ran and how you chose that one as your first?
I ran the Las Vegas Rock 'n Roll Marathon on November 12, 2017.  I chose this marathon because a group of friends decided together to do it, but what sold me on it was it's one of the few marathons that starts in the evening rather than the morning.  I run and function much better later in the day, so this was a great fit.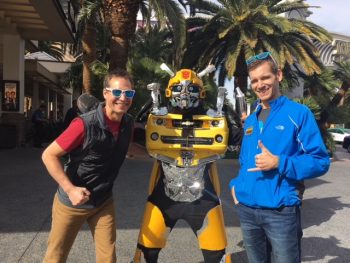 Going into your training and knowing that you're a long time runner and coach, what was your plan of attack for preparing for the marathon?
This is a "do as I say, not as I do" moment.  I really had no plan.  Our group decided to run the marathon about 12 weeks out.  At first there was a little plan, but weeks 2 and 3 were plagued by a sinus infection and a valley filled with forest fire smoke.  I didn't run for the better part of two weeks.   With 9 weeks remaining and not much base mileage, the plan was just to get my long runs in and do at least one 20 miler before the race.
Did you have any specific goals for the race or simply to finish? 
I only attempted one other marathon and I didn't finish due to an injury.  Mainly the goal was just to finish this marathon.  However, it's hard not to start thinking about time goals as you go along.  Based on my long runs, I thought I might be able average 7:15-7:30 per mile if things went well.
Did you hit any speed bumps during your training? And high points? 
The major speed bump was getting sick during weeks 2-3 and dealing with the forest fire smoke.  I think the high point was running some of the longest runs I had done in nearly 10 years.  My body responds pretty well to moderate amounts of mileage and it was fun to start feeling fit again.  I also was happy to just be able to run these distances again after having foot surgery the previous year.
How did your taper week(s) go? 
A taper only works if the volume of your training load was high enough to elicit a response when you cut back on mileage and sharpen with a little speed.  My training load was relatively low and I had not done any meaningful speed work.  So, I really didn't have a taper.
And tell us all about race day. Everything from what you ate that day to how you were feeling and fueling during the race?
The one thing I think I did well was nutrition before and during the race.  I actually did have a plan for this and I experimented during my long runs in training.
In the 24 hours leading up to the race I had a dinner of non-spicy Pad Thai and a late breakfast that included a savory crepe, some breakfast potatoes, and a yogurt parfait with some granola and berries.  I had more of snack than a real lunch because of the race start time of 4:30 p.m. I had a Picky Bar and water as a snack about two hours before the race.  About an hour prior to the race I mixed up my Generation UCAN drink mix and sipped on than for about 20 minutes, and then walked to the starting area.
During the race I took a energy gel about every 30 minutes, and alternated water and electrolyte fluids at aid stations.  I saved some Sport Beans as a treat for the last few miles.  In training I learned that I needed calories at a more frequent rate.  I had started out doing a gel (~100 calories) every 45 minutes and no UCan.  Changing to UCan prior to the run and gels every 30 minutes seemed to work much better for me.
At the start line, my goal was to find the 3:15 (7:26/mi) pacer and stick with that group for at least the first half.  The pacer was nowhere to be found in the starting corral.  So, I was left to my own devices, usually a bad sign.
From the start of the race I had an issue with my right knee.  It had not occurred in training, so I was definitely surprised by it.  I thought it might be my IT band and I even made some very short stops to stretch it.  Even with the knee feeling weird I was able to get into a nice rhythm hitting within 10 seconds of 7:20 per mile pace.  It was a little faster than planned, but I went with it, since many of my long runs had been in that zone.
Around 10-11 miles, the knee pain seemed to lessen, a good band was playing one of my favorite Lenny Kravitz's songs, and I got a little excited and hit my first mile under 7.  I pulled on the reins a bit and settled back near 7:20's.  Things went well for the next six miles and I finally saw my buddy Eric a few minutes behind me on one of the really loopy parts of the course.  Around mile 16-17 I passed the pacer feeling strong.  Just after mile 18 I even remember feeling good enough to still push a little. Very shortly after that feeling of confidence, another feeling came on, rigor mortis.
The next couple miles my pace dropped off by 30-45s per mile.  Then around mile 21 the knee pain came back with a vengeance.   It was severe enough at times that I felt my leg buckle and give out.  I chalked it up to the idea that everything hurts at this point in the race.  Around miles 22-23 some short bouts of walking ensued.  At one time I was nearly 5 minutes ahead of my friend Eric, and he passed me at mile 23.  It was nice to see him, but a little deflating too.  Mile 24 was a hot mess.  I remember walking through an aid station where I must have grabbed at least 8 cups of fluid.  Anything to help me feel better, right?  I rallied a bit in miles 25 and 26, less walking and mostly running.  Near the finish line, the flames shooting out of the volcano at Treasure Island provided enough entertainment/motivation to give a little push to the finish, and I completed my first marathon
What was your feeling as you crossed that finish line? 
There's no doubt that I was disappointed in how I performed.  However, most of that disappointment was in how I prepared.  I did gain some satisfaction in just finishing, since I wasn't able to cross the line at my last marathon attempt.  I remember seeing my wife and sister-in-law cheering me on in the final mile.  When I saw them I was really struggling and not in a good place.  I was pretty pissed off.  But I decided whatever disappointment I had, I was not going to be that asshole that spent the next 24 hours bitching about how bad the race went.  Plus we were in Vegas, so it was time to have fun!
Do you think you'll do a marathon again? Would you do anything differently next time? 
I will probably attempt anther marathon.  It's hard when you know what you're capable of and not come anywhere close to it.  So, I'd like to prepare and run a marathon in a way that I am proud of.  Although, if it goes well, that maybe it.  Marathons are tough on the body and I can see myself happily sticking to half marathons and below.
As for doing anything differently, that's easy, I would not wing it again, have a real plan in place, and do the work that it takes to prepare for a marathon.  I would most likely start preparing closer to 15-16 weeks out too, rather than 12 (or really 9) that I did.  I also would start off just a little more conservatively.  I always tell the people I coach to treat the first 5-10K almost like any easy warm-up run pace.  I didn't do that and I think it would have helped to make those last miles a bit more manageable.
Thanks, Dustin! It's always fun to hear about peoples' running "firsts" as they often make a good story.