Kay Porter, PhD, a local sport psychology consultant and therapist is also the coach of a local training group called The Spirited Walkers. S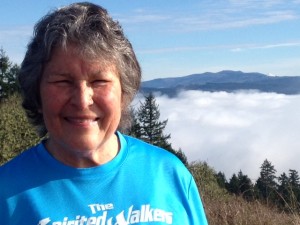 he started the group back in 2000 when a friend asked for help while training to walk the Portland Marathon. From there, it slowly grew to the point where she was helping a group of 50 or so folks train for races consistently.
What exactly are Spirited Walkers you ask? Well, it's a group of folks (all ages and paces welcome) interested in training to walk a half or full marathon. It's a great way to learn the tools needed mentally to prepare for a race as well as have a structured training plan and company for those longer mileage days. Not everyone trains for a race, but most have their sights set on an upcoming race, currently the Eugene Marathon (half or full) on May 1st, 2016.
The structure of the group is centered around one weekly walk every Saturday morning at 9:00 a.m. with beginner and intermediate plans or distances as well as a 5x per week training plan (done on your own) and a monthly meeting covering things such as yoga stretches for walkers, mental training tips and more. The cost to participate is $150 and includes lifetime access to future training groups, which means you get to come back to train for next year's race for free!
Kay hasn't always been a walker. In fact, she was a pretty serious runner from 1977 when she took up running to around 2007 when she transitioned to walking primarily for the health of her knees. Kay holds an impressive PR (personal record) of 3:29 in the marathon, which she ran in 1982 at the San Francisco Marathon. When asked what got her through that race, she credits visualization and the mantra "keep on shuffling."
When she's not coaching and encouraging other walkers, Kay works with athletes of all levels as well as non athletes in her therapy business. Athletes from the high school level to elite athletes often work with Kay in the sport psychology realm on topics such as pre-competition anxiety, finding focus, working on visualization, regaining their competitive fire and more.
Often, Kay says, she practices "energy psychology" which she's found to be very successful for her athletes in controlling one's thinking patterns through a combination of breathing sequences, refocusing your mind, staying in the moment and not freaking out. Kay says she loves the work she does, especially with athletes because they come to her  with a desire to improve, which is both exciting and inspiring.
Want to learn more about Kay and The Spirited Walkers? Join us on Monday, January 11 at Run Hub NW (515 High St, Eugene) from 7:00-8:00 p.m. for her free information session on her training group.
Want to read more about Kay, The Spirited Walkers and her therapy work online? 
Check out
The Mental Athlete
.