Leading up to the Eugene Marathon and Half Marathon, we are featuring a few of our Team Run Hub athletes who have been training with the group since the end of January. We are also offering a 5K training group for those who are new to running or are just coming back after a break and want some support, weekly team practices, and a coached training program.
Meet Drew Anderson, accountant by day and runner/documentary buff by night. 
Why did you start running? And how long have you been doing it?
I lost a bet in high school. A friend and I played Dance Dance Revolution and the loser had to sign up for the other's sport… I got destroyed. So, I joined the cross country (XC) team my senior year after no experience with running. However, I didn't keep up with it once I got to college. It was after a promise that I started running again in 2012… So almost five years continuously.
Why did you join Team Run Hub?
I did a training program last year with Run Hub to prep for a 5K personal record (PR). It was structured, and also pushed me beyond what I would have done on my own. Since I'm doing my first marathon this year, I knew I needed proper guidance. Run Hub helped me with my goal last year, so I knew without hesitation that I wanted to be a part of Team Run Hub.
Which race are you training for? And what's your goal for race day (could include time, feel, effort, experience, etc.)?
I'm training for the Eugene Marathon in May. My goal is to try and Boston Qualify, so I'm aiming for under 3 hours.
What motivates you to run?
A promise. Back in 2012, I made a promise with a friend that I would beat him in a 5K. Sadly, he passed away shortly afterward. It was a rough ordeal, but I remembered our promise and started running again. I run so I can be better; to get closer to beating his 5K PR (16:49). It may be a lofty goal, but I'm stubborn and want give it my all at trying. Plus, I hate breaking promises so as long as I'm able to, I'll keep running.
For reference, what is your 5K PR?
At the moment, it is 18:03. It's a long shot, but I've gone from a 23:30 to 18:03 since I started running after he passed away so I have hope that I can reach that someday.
Which do you think is harder for you, speed workouts or the long run? And why?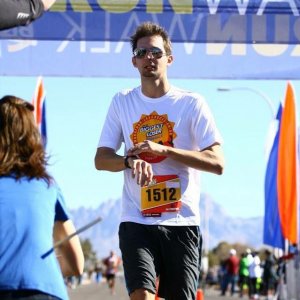 Speed workouts because you have to push yourself just beyond what you think you can do. I find that breaking the idea of what your limits are to be challenging and I'm drained physically and mentally after finishing.
What stands out as your favorite aspect of the training program so far?
The structure of it. It might be the accountant in me, but I love seeing what I need to do for the week broken out by day.
Favorite post long run fuel?
Cherry flavored gummy bears. I don't why, but that's what I crave after a long run.
How do you spend your rest/recovery days?
Mostly watching documentaries on TV. I'm a huge fan of sports ones, but just watching a documentary is kind of like a reset for my body to get ready for what's next.
Tell us about your most memorable run or workout.
Hood to Coast 2015. It was my first time doing Hood to Coast and I was living in Texas at the time and flew up for it. Right before my first leg, I got a call saying I got a promotion and I was moving back to Oregon. I was ecstatic. During my last leg, the sky opened up and began pouring with heavy winds. During the little chaotic weather, I was on a runner's high through it all as I realized I was coming back home. It's a feeling I doubt I will ever forget.
Good luck, Drew! If you're interested in joining a future Team Run Hub training group, click here. Our next training program starts in August for the EWEB Run to Stay Warm. Registration will open in July.