Leading up to the Eugene Marathon and Half Marathon, we are featuring some of our Team Run Hub athletes who have been training with the group since the end of January. If you're interested in joining a future Team Run Hub training group, click here. Our next training program starts in August for the EWEB Run to Stay Warm. Registration will open in July.
Lisa Perez, first-time marathoner
Why did you start running? And how long have you been doing it? 
In elementary school, I loved any part of PE class where I got to run. I competed in cross country and track in middle and high school. I was pretty busy with college classes, work and traveling before relocating to Eugene. I always wanted to start running again, but I just never made the time. It was easy to get back into it once I discovered running groups in Eugene. After my first community run (at Run Hub), I was hooked and I realized how much I missed it! Eventually, I started going to a group run almost six days a week.
Why did you join Team Run Hub?
I had so much fun training with my other Team Run Hub teammates for the Eugene Half Marathon in 2016. Having our awesome and dedicated coaches, Brett and Dustin and a set training schedule will give me the confidence to finish my first full marathon.
Which race are you training for? And what's your goal for race day?
I'm training for the Eugene Marathon and my goal is a sub-4:00 finish. Running a marathon was never something I thought about doing, but part of it was that I didn't believe I could do it. I'm really excited and a little nervous about the challenge of it!
What motivates you to run?
These last couple years have been about pushing myself to try longer distances and improve my speed as well. Finishing 20 miles for the first time was a huge confidence boost!
Which do you think is harder for you, speed workouts or the long run? And why? 
Speed workouts are definitely more challenging for me because speed is not my forte. It keeps me motivated to work harder during those workouts and improve a little each time.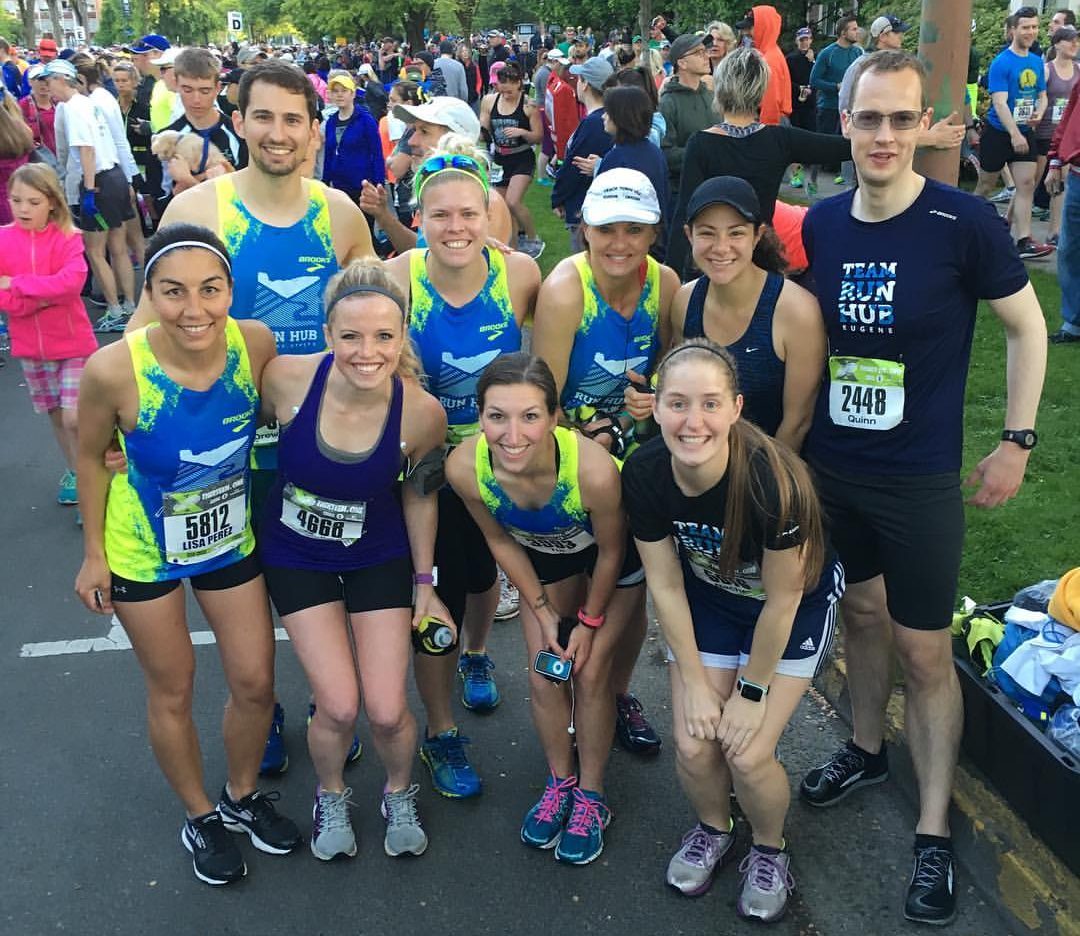 What stands out for you as your favorite aspect of the training program so far? 
The team! It's fun to cheer each other on during our workouts. And I love having a training plan to follow. Brett and Dustin have done an awesome job!
Favorite post long run fuel?
Either almond butter on a plain bagel or a banana and chocolate milk
How do you spend your rest/recovery days? 
I love watching The Big Bang Theory and I'll usually get in a foam rolling session at the same time.

Do you have a most memorable run or workout? If so, tell us about it. 
The course preview for the Eugene Half last year. Some parts of the course were not well marked but Coach Dustin kept us on track. He drove to different turns along the way, let us know what was next and cheered us on!
Good luck and have fun at your first marathon, Lisa!