In the weeks leading up to the EWEB Run to Stay Warm, the Turkey Stuffer 5K and the Holiday Half and Hustle, we'll be introducing you to some of our Team Run Hub athletes who will talk about their goals and how their training has gone. Today, insurance and financial professional Quinn Michalek talks about his training for the EWEB half marathon.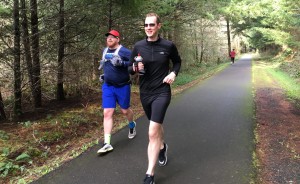 What's your favorite non running hobby?
One good thing about having running as a hobby is there is always something you can do to improve. I spend a good deal of my free time outside of work doing things that will not only improve my running, but will also make me overall stronger and healthier. With the time left after that, I am usually reading or watching documentary videos to learn something new.
What race are you training for? And what are your goals for race day?
This session I am training for the EWEB Half Marathon. My goal is to run 52.4 quarter mile repeats averaging about 2:00 min each quarter.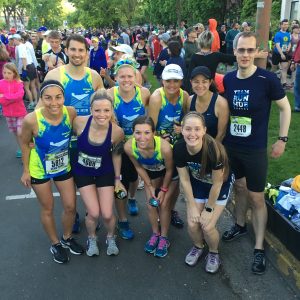 You ran the Eugene Marathon, your first full marathon this past spring. How did that race go for you? Were you satisfied with your performance?
Finishing the Eugene Marathon was a proud moment for me. It was amazing how crossing that finish line transforms you. For anyone teetering on the edge deciding wether or not to try a full marathon, I say go for it. There is such a sense of accomplishment in finishing that I believe it was the springboard for improvement I have had since.
Tell us about your favorite or most memorable workout/long run during this training cycle.
My most memorable run of the training was when coach Kris expertly paced me during a 5K race and helped me PR by a good margin. I also appreciated running with Stephen on my last long run; he was able to help me dial in race pace and gave me a lot of insight into racing and training.
What, if anything, have you struggled with this training season?
The hardest thing for me during this training session was balancing the three trail races I ran with the scheduled workouts. I feel like I compromised some of the workouts by running the races (i.e. the time trial after Hardesty) and likewise feel like I would have done better on the trail races if I was training for each specifically. It was also difficult to balance running on an ankle sprain that was still healing without overdoing it.
Nice work and good luck, Quinn! Run Hub's next coached training program will start in early 2017 in preparation for the Eugene Marathon (half and full).