For the month of February we're featuring some of our Run Hub community runners, why they love running and how they fell in love with it. Find out how Colleen Mumford fell in love with running after a run streak!
Q: How did you fall in love with running?
A: I started running occasionally as a way to exercise during college and although I somewhat enjoyed it from the start, especially training for my first half marathon, it remained only a sporadic hobby for years. I truly fell in love with running when I completed a Runner's World run streak in summer 2016, which required running at least a mile every single day from Memorial Day to the Fourth of July. Through that challenge I grew enamored with the meditative peacefulness of running, the post-run exhilaration, and the thrill of increasing my speed and distance, and my passion has only grown stronger as I've continued running more and more since that summer.
Q: Tell us about a time recently when you thought "Wow, this is why I love running."
A: I recently travelled to Puerto Rico with friends, and the first morning there I woke up before sunrise to run around Old San Juan while the streets were still quiet and watched the city gradually awaken in a way most tourists do not. Without running, I probably would have just slept in at the hotel with my friends after our long flights and missed the entire experience. I love that running allows me to discover unique moments like that, both when I travel to new places or on familiar routes here at home, because there's always something unexpected to be explored on each run.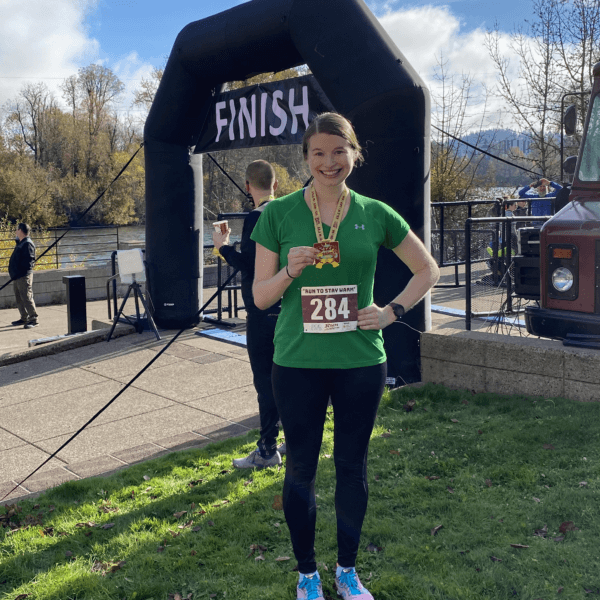 Q: Is there anything else you want to tell us about your love for running/why you run?
A: Although I first got into running on my own for the increased mental clarity and strength, I now also run for the community I have found through it. I love that running has helped me meet so many different people (especially at Wednesday night Run Hub runs) and make some of my closest friends in Eugene. Even though it's an "individual" sport, I love the collective energy of group runs, the friendly greetings between strangers when crossing paths with fellow runners, and the camaraderie of race directors, volunteers, and spectators working together to support runners on race days.
Q: Favorite piece of gear?
A: Every single piece of gear I own from SportHill is extremely durable and comfortable (and I love that it's a local company!), but my absolute favorite is the SportHill Sunrise shorts! I rely on these year-round for everything from track workouts to trail runs to my last marathon!