Run Hub employee and University of Oregon student Zoey Bailey is currently hiking the entirety of the Pacific Crest Trail. She began the journey in late March and plans to finish in time to return for the fall quarter at UO. Follow along as Zoey chronicles her journey for us!
Miles 0-180 
April 10, 2021
It's happening! Two weeks into a journey a long time in the making. For many years I've dreamed of hiking the Pacific Crest Trail, a continuous path of 2,650 miles snaking from Mexico to Canada. The trail requires a permit, which about 1,000 lucky people receive via lottery. I threw my name in the hat. As a student at the University of Oregon, the prospect of a 5th term of Zoom classes was crushing and the opportunity to realize a dream I've had since I was 12 was too promising to pass by. After days of anxious waiting, I got the golden ticket! From that glorious day forward, the prep began in earnest. For a few months I gathered and researched gear, assembled stockpiles of ramen, trail mix, and bars, and trained with my pack up and down Spencer's Butte. During this time I assembled a dozen boxes of food and toiletries to be sent to the trail in the coming months. For the all-important shoe decision I opted for the Altra Timp 3. Having a little extra room in the toe box will help with the inevitable swelling of my feet during such an epic trek and the cushion is very welcome on long days. 
After saying goodbye to Run Hub for a little while and getting my COVID vaccination, I flew south to San Diego! The southern terminus of the PCT begins adjacent to the Mexican border and the fragment of wall is visible as the trail meanders off into the desert. 
I expected the desert terrain to be monotonous and dull, but each turn of the trail revealed new creatures, plants, and dramatic views! For the better part of the first 100 miles I walked alone, singing into the wind and basking in the California sun. Coming out a Eugene winter to warmth and brightness of Southern California wilderness was startling and refreshing.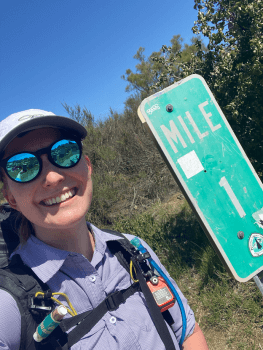 On the third day, the intensity of the environment was revealed. After spending the morning climbing up Mount Laguna, I ran into an older woman and her dog resting by the side of the trail. She could barely speak in full sentences and was completely out of food and water. With some careful questioning, I discovered she had severe heart conditions and her blood pressure was dangerously low. She could not walk uphill and the only way out of the wilderness (save for helicopter rescue, which we briefly considered) was back down the mountain I had just climbed. There was nothing to do but make it down. From noon to after dark, we slowly eked out the three miles to the nearest road. Although my nerves were fried and I was extremely dehydrated from giving away my water, everyone made it back in one piece. The woman took a photo of her pup Max and I during one of our many rest breaks.
Thankfully the next 150 miles were free from unexpected rescues, but they were still quite the adventure! I stopped in Julian to meet up with my grandparents and got some delicious free pie for PCT hikers. Then back to the cacti, lizards, and Yucca plants! I soon met my first rattlesnake, crossed rockslides, and filtered water from rather questionable troths out of necessity. During this stretch I met several other 20-somethings and formed the beginning of a trail family. Trail names are commonplace for most thru-hikers. Burp King and Dirty Chocolate are truly the backpacking dream team and miles flew faster with good company. 
At mile 152 we stopped for the legendary burgers at Paradise Valley Café. After a quick 5,000 calorie feast, we picked up our snow gear and headed up into the San Jacinto Mountain range. Within a few days I hit the first treacherous terrain of the trip. Microspikes on my feet and ice axe in hand, I crossed several snowy traverses and scrambled around rockslides on exposed edges of trail. Although exhausting, the challenge of the mountain is wildly fun! 
Dirty Chocolate, Burp King, and I stopped in the lovely town of Idyllwild for a day of rest and fresh food. With our packs filled with delicious snacks we head back to the trail today!
To be continued…